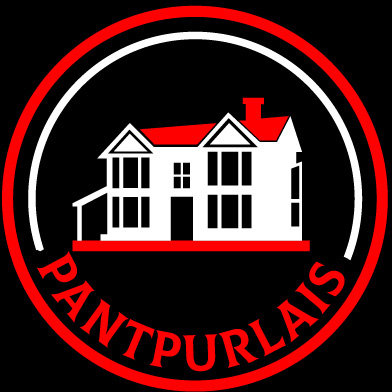 THE STORY OF PANTPURLAS, A FARM IN LLANDRINDOD PARISH
Among the contributions to Volume XV of the Radnorshire Society's annual Transactions, published in December 1945, is a two- page article entitled 'Cefn Llys; Castell Gian Ithon'. Its authorship is at first in some doubt because the writer's name appears neither with the title nor at the end of the article, and it is not mentioned in the Annual Report of the Society with which the Volume starts.
However, on the page immediately preceding the article appears : Dedicated, and given to the Ven. Archdeacon De Winton, (Rector of Cefn Llys) by his faithful servant, George Sandford, Pant Purlas, Llandrindod
On the the same page a note signed by Griffith Thomas, The Rectory, Llandrindod Wells, and dated March 24th, 1945. states that Archdeacon Henry de Winton was rector of Cefnllys with Llandrindod from 1881 until his death in 1895, when he was buried at Boughrood of which parish he was formerly rector. There is no mention of George Sandford of Pantpurlas, nor is there anything to suggest that Mr Sandford wrote the article which begins on the next page. However, in 1946 the Transactions carried a short contribution, entitled 'Cefn-y-Llys', by C. H. Sandford, and indeed the list of members of the Society in 1946 included Mr C. E. Sandford, Corn Exchange, Sheffield. In fact, the initials of this Mr Sandford were C. S., as we shall see.
Research in the Shropshire Record Office's archives relating to the very ancient Shropshire family of Sandford, whose chief seat is still Isle of Rossall in the parish of Bicton near Shrewsbury, revealed the will, dated 1856, of a Revd Richard Sandford, M.A., 1791-1860, rector of Eaton- under-Heywood, near Church Stretton. Richard Sandford, son of Folliott Sandford, 1751-1841, esquire, of the Isle of Rossall and a confirmed bachelor, bequeathed in equal shares to two nephews, Folliott Sandford, gent, of Shrewsbury and his brother, George Sandford, clerk, of Sheffield, the 'cottage, land and premises called Pantpurlas in the county of Radnor'. Later it becomes clear that the land referred to was little more than three acres, comprising a fold, a garden and one or two fields, but the will does not explain how the Revd Richard Sandford came to own this property in Llandrindod parish, though it was very probably by purchase, prior to 1847, from its previous owner, James Jones of Hengoed, Huntington, Herefordshire, a parish bordering Gladestry in Co. Radnor.
The identity of the 'George Sandford of Pantpurlas' was now revealed as the Revd George Sandford, M.A., third son of the Revd Humphrey Sandford, J.P., Isle of Rossall, while his next older brother was Mr Folliott Sandford, solicitor, of Belmont, Shrewsbury. George Sandford, born in October, 1816, was educated at Shrewsbury School, and then at Magdalen College, Cambridge, graduating as a B.A. in 1840. In the same year, he was ordained deacon and appointed curate of Acton by Nantwich. Cheshire. Ordained priest in 1841, and taking his M.A. in 1843. George Sandford moved to Sheffield and remained there for fifty-five years. His first appointment was as Vice- Principal of Sheffield Collegiate School, but after three years he took up church work again, being appointed the first vicar of the new St Jude's church in the Eldon area of the fast growing industrial town, where he worked with outstanding success for thirty-four years before being given the parish of Ecclesall, Sheffield for the remaining eighteen years of a very long and active life. Like so many of this Sandford family he was long-lived, being in his 82nd year when he died on 16th September, 1898.
In 1860 the year in which he inherited a half-share in Pantpurlas 'with rights of Common in Little Hill', he married Elizabeth, elder daughter of the Revd Henry Barlow, vicar of Pitsmoor. another Sheffield incumbency. They had a family of nine sons, of whom the youngest was christened Charles Sidney.
George Sandford was a man of wide interests, and his deep love of the Welsh borderland and its history was given expression in his contributions to the volumes of the Montgomeryshire Collections of the Powysland Club of which he was a member from 1870, only its third year of existence. Among his many articles was one on 'The Fortresses of Radnorshire' and one about The Walsh family of Llandewi, Radnorshire'.
At no time, however, did any of the Sandfords make Pantpurlas their home; it was, of course, too small and too remote from their chosen fields of labour, and so it was let to a succession of tenants, usually small-scale hill farmers, most of whom were quick to take advantage of the rapid growth of Llandrindod Wells when, with the completion of Central Wales Railway, soon absorbed in the much larger L.N.W.R. system, there was a spectacular increase in its number of summer visitors. One such tenant of Pantpurlas was Thomas Morgan who took space in Button's Guide to Llandrindod Wells, 1896, to advertise that fresh milk, eggs, poultry and vegetables produced at Pantpurlas Farm could be supplied cheaply to visitors from a cart calling every morning at most houses in the town.
Fortunately, Mr John H. Lewis of Bailey Einon farm in Cefnllys parish has allowed the author to study documents and plans relating to Pantpurlas among his title deeds to Bailey Einon, and from these we learn of 'A lease, dated 25th July 1756, on Pantpurlas for a term of 99 years, which expired on 25th March, 1856.' By 1847 it was the property of the Revd Richard Sandford of Church Stretton, but in the occupation of a James Davies, and had been so for seventeen years. The annual rent of £5.10s was then being paid half-yearly to a Mr (John) Jones of nearby Cwmbreeth (Cwmbrith) farm, probably as agent to Sandford.
The tenant. James Davies, was then keeping a cow, a pony and occasionally eight or nine sheep or as many as he could winter, using the right of Common on Little Hill which lay on three sides of Pantpurlas, thus suggesting strongly that Pantpurlas began as an encroachment on hill 'waste'. The cottage itself is described as a miserable hovel, and yet, as the 1841 Census Returns show, it provided a home for James Davies, agricultural labourer, aged forty, and his wife, Mary, and seven children whose ages ranged from twelve years to seven months.
The 'Plan of the Estate called Pantperlas' (sic) carries no scale or direction sign, but it indicates the use to which the three acre field was then put, and apart from the rent, the amount paid in Tithe and rates, as well as the name of the neighbouring farm, Llaneully (Llanole) and its occupant (Mr Wylde). The farm name of Llanole(y) is interesting in that it suggests 'the last' (ol-) 'cleared enclosure' (llan), i.e. the last fields before the common of Little Hill. . . another strong hint that Pantpurlas was entirely taken out of the hill waste. The sketch of Pantpurlas cottage shows it to have been of the Welsh long-house type with the roof over the home and byre but separate doors for family and animals.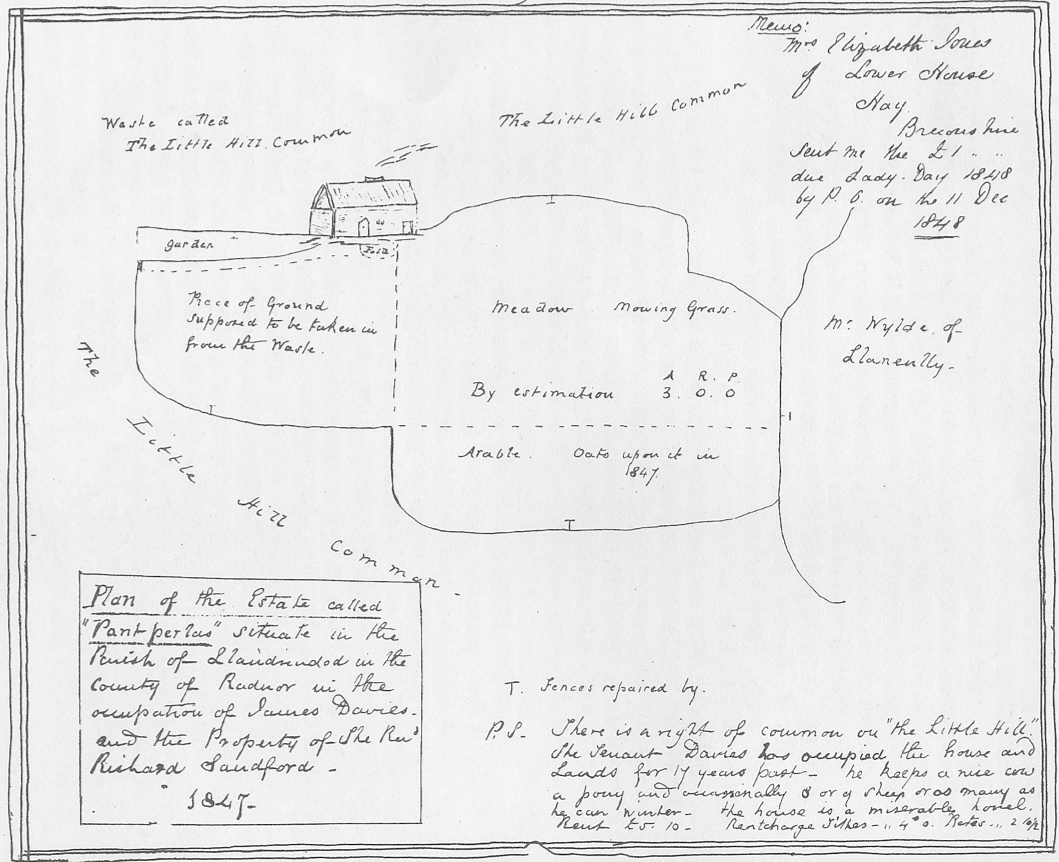 Another Bailey Einon deed, dated 29th September, 1856, is an agreement by which the Revd R. Sandford let to Ezekiel Davies, an agricultural labourer, the land and premises called Pantpurlas containing about three acres at a yearly rental of £5. Davies who signed with his mark agreed to occupy and farm Pantpurlas 'in a proper manner according to the rules of good husbandry'. Since the Census Returns of April 1851 show Ezekiel Davies to have been an agricultural labourer, aged thirty, living with his wife and three children aged between five years and eight months, the agreement of 1856 was clearly just one of a series of yearly leases agreed between owner, Sandford, and tenant, Davies, after the previous tenant, James Davies, had moved away following a tenancy of perhaps twenty years, 1830-1850.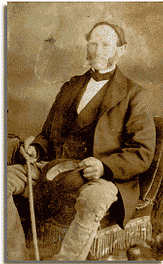 Ezekiel Davis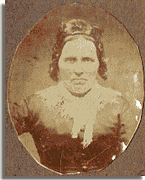 Elizabeth Davis
One other person shown in the 1851 Census to have been living at Pantpurlas was John Davies, described as a lodger, an agricultural labourer, a native of Llandrindod parish, aged forty-seven and unmarried. This was probably the John Davies whose tombstone in Howey Baptist chapel graveyard describes him as a faithful deacon of this church who died 9th June, 1869, aged sixty-five years and formerly of Pantpurlas. Indeed, Ezekiel Davies and all his family became members of Howey Baptist chapel, first opened in 1853; it lay closer to Pantpurlas than the much older Rock Baptist chapel in Llanbadarn Fawr parish and their nearest chapel until the first Baptist chapel in Llandrindod Wells was opened in 1876.
Under the Swydd Neithon Inclosure Act of 1862, Pantpurlas, then stated to be three and a half acres in extent, was alloted in the 1871 awards two plots of land out of the Little Hill Common, one piece of about two acres, the other a detached pices of only twenty-two perches in which there were springs of water. This is a reminder that Pantpurlas always had a water supply problem, especially after any lengthy spell of drought.
Under the same Inclosure Act the Bailey Einon estate of 196 acres, and then the property of the old Whittall family, was much enlarged by its allotment of 64½ acres out of Little Hill Common. However, owing to some financial problems, the Whittalls in December 1880 sold for £210 about eleven and a half acres of their Little Hill allotment to the Revd George Sandford, though whether any of it had been 'improved' it is difficult to say,. If not, it meant that Ezekiel Davies and his sons were faced with the very arduous task of burning off the rough hill pasture, stone removing, breast-ploughing with the bettin tool as well as draining to convert their allotment into fields and fencing them.
Another Bailey Einon deed, dated 27th April 1882, refers to all those two messuages or dwelling-houses with the cowhouse and all other buildings erected upon the piece of land called Pantpurlas and in the occupation of Ezekiel Davies'. Clearly, the 'miserable hovel' of thirty- five years earlier had seen many changes; a new dwelling-house had been built and the old house, its cowhouse disused, converted into an extra dwelling, and a new cowhouse and other outbuildings erected.
By 1882 most of the Davies children, five daughters and three sons, had left home, but Ann. one of the younger daughters, was still at Pantpurlas when her father, dying there in December, 1884, aged sixty- five years, was buried in Howey chapel graveyard. Ann Davies had married a Mr Thomas Morgan who after 1884 took over the tenancy of Pantpurlas whose occupant he was, when in December 1891 the Revd George Sandford bought from the Whittalls of Bailey Einon a further seven acres of their allotment award on Little Hill. This brought the total acreage of Pantpurlas to some twenty-five, what proved later to be more important, it brought the small farm up to a lane leading to Cefnllys road, a route to Llandrindod Wells, now a thriving spa town, only a mile or so away. We have seen that Thomas Morgan took full advantage of this by advertising in a recently published guide book to Ye Wells.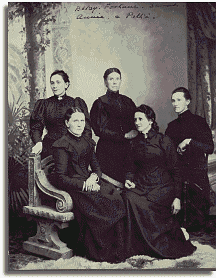 Betsy, Fortune, Sarah, Annie and Patti Davies
Though the Sandford brothers regarded Pantpurlas primarily as a source of income, members of their families did pay occasional visits to their Welsh property in the form of summer holidays at a pleasant and fashionable spa. Surely, as an incumbent himself, the Revd George Sandford made himself known to the rector of Cefnllys with Llandrindod, who until 1881 was the Revd Thomas Thoresby and from 1881 Archdeacon de Winton.
Since it was to the latter clergyman that the Revd Mr Sandford 'dedicated and gave' his account of Cefnllys Castle, it must have been written before 1895 in which year the Archdeacon died, but after 1875 the year of publication of Miss M. E. Braddon's novel. Hostages to Fortune, a reference to which appears in Mr Sandford's account.
The question therefore arises as to the whereabouts of Mr Sandford's article, dedicated to Archdeacon de Winton, until it appeared in the Radnorshire Society's 1945 Transactions. The possibilities are many. It may have been found among the papers of Holy Trinity church, Llandrindod Wells, by Canon Thomas, incumbent of the parish from 1929 until 1946 and a founder member of the Radnorshire Society, or possibly it was presented to the Society by Mr W. B. de Winton, eldest son of the Archdeacon, who after a long career as Chief Engineer to the Madras Government, had returned to live in retirement at Howey near Llandrindod Wells. Another possibility is that the Cefnllys Castle story may have been sent to the editors of the Transactions by one of the sons of the Revd George Sandford of Sheffield, quite possibly by Mr Charles Sidney Sandford whose name appears among the 1946 list of members of the Society, and who in the same year himself contributed to the Transactions a short article entitled 'Cefn-y-Llys', in the nature of a sequel to his father's article of some fifty years earlier.
Wherever the Sandford article had lain for some fifty years, in or about 1944 it came into the possession of, or was loaned to, the then editors of our Society who decided to print it in our 1945 Transactions.
The contributions of 'George Sandford of Pantpurlas' to the Montgomeryshire Collections and to the Transactions of the Shropshire Archaeological Society make quite obvious his great affection for the countryside around Llandrindod Wells, and that he knew intimately the district around Pantpurlas is made clear from his references to the river Ithon, the Alpine Bridge (Pontygraig), Bailey Einon Woods and Cwmbrith Bank.
When the Revd George Sandord died in September 1898 he had already transferred his interest in Pantpurlas to his eldest son, the Revd G. Folliott Sandford, vicar of Sharrow. Sheffield who in 1899 decided to dispose of the property. For information about the changing ownership of Pantpurlas from 1899 we are indebted to the previous owners, Mr and Mrs H. O. Humphries. For information about the actual tenants who often were not the owners, use has been made of the Llandrindod Tithe Schedule, 1840. the Decennial Census Returns, 1841-1881, and the Voters' Lists for Llandrindod parish from 1868.
Mr C. R. S. Sandford, a recently retired solicitor of Sheffield, and son of Mr C. S. Sandford, informed the author in a letter of November 1982, 'I remember my father telling me that the family spent many holidays at Pantpurlas by arrangement with the farm tenant.' We can also be fairly sure that Caroline, wife of Shrewsbury solicitor, Mr Folliott Sandford, visited Llandrindod Wells, probably staying at Pantpurlas, in the late 1880s. The Annual Report of the Llandrindod Wells Cottage Hospital for 1886 mentions a donation from Mrs Sandford, Pantpurlas and Belmont, Shrewsbury, and again in 1889 and 1890.
The long association of the Sandfords with Pantpurlas for at least fifty years was broken in November 1899 when, by borrowing money mostly in the form of mortgage against the property, Mr Thomas Morgan bought Pantpurlas from the Revd G. F. Sandford, but in rather less than four years Morgan, and his chief mortgager, sold it May 1903 to a Miss Mary Sheen of The Lindens, Llandrindod Wells, a large house close to Holy Trinity church and built in 1893 for a Dr A. G. Greenway who was soon to buy the rectory from the executors of the late Archdeacon de Winton, for conversion into a large hotel.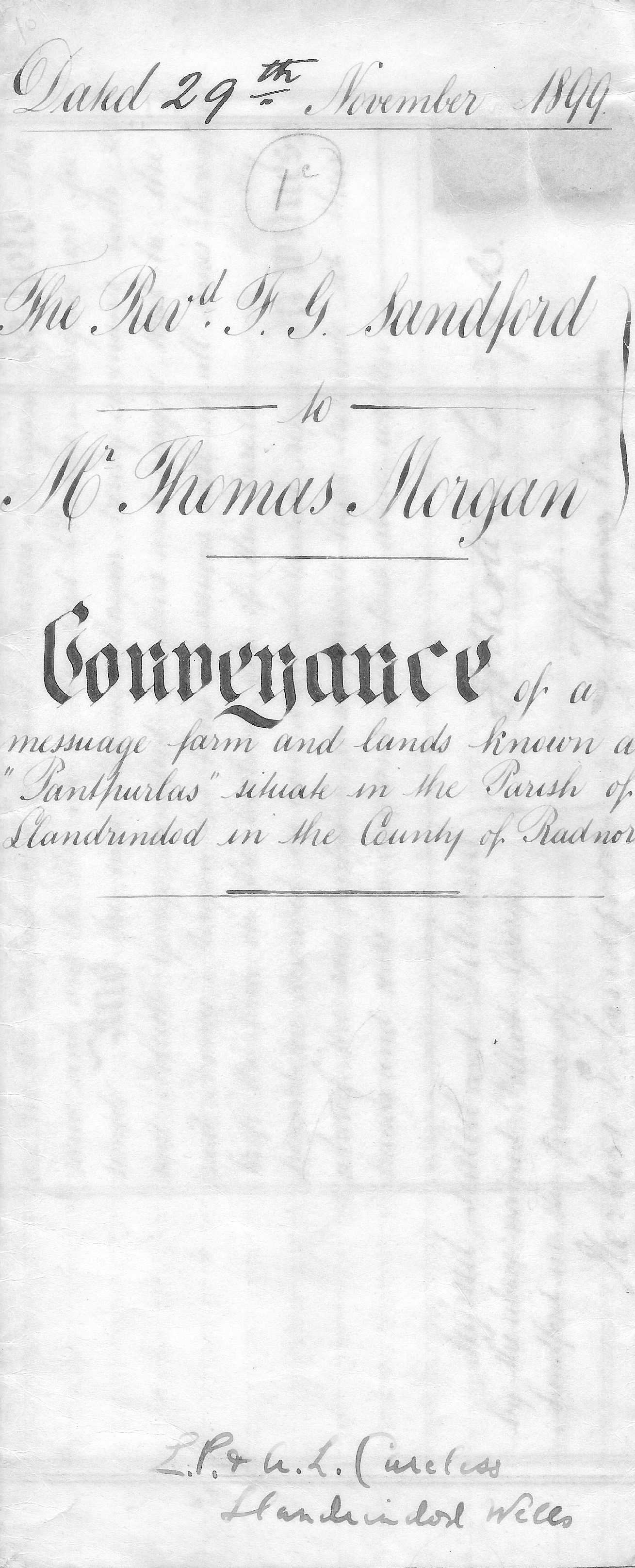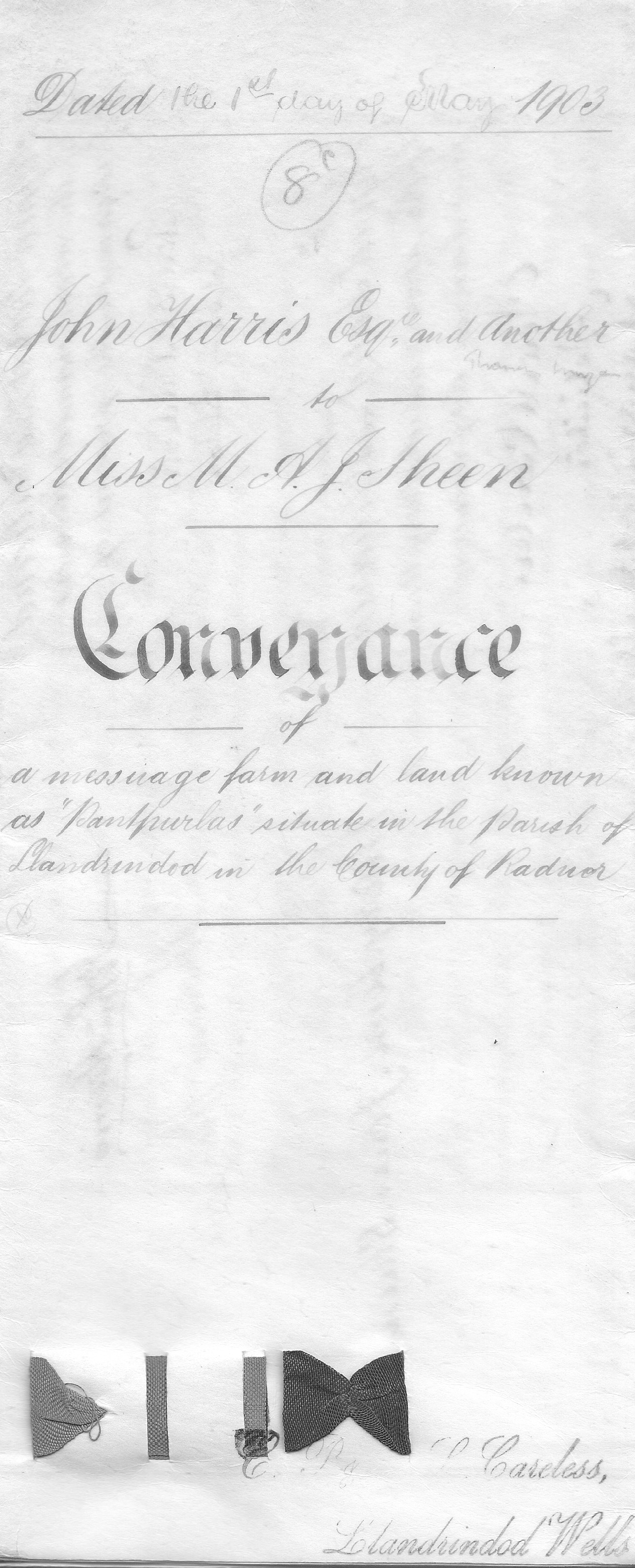 It was probably between 1899 and 1903 that Pantpurlas was destroyed by a fire in Christmas week when the Morgan family were all absent at a festive gathering with relatives in Llandrindod Wells. Whether the new Pantpurlas was built by Mr Morgan or Miss Sheen is doubtful, but our illustration shows it to be an attractive house in pleasant surroundings and well adapted for use as a boarding-house at a time in the first decade of the twentieth century when The Wells was at the peak of its fame as a health and holiday resort, and when in the Season, Easter to end of September, it was often impossible to find accommodation in the hotels and boarding-houses inside the town itself.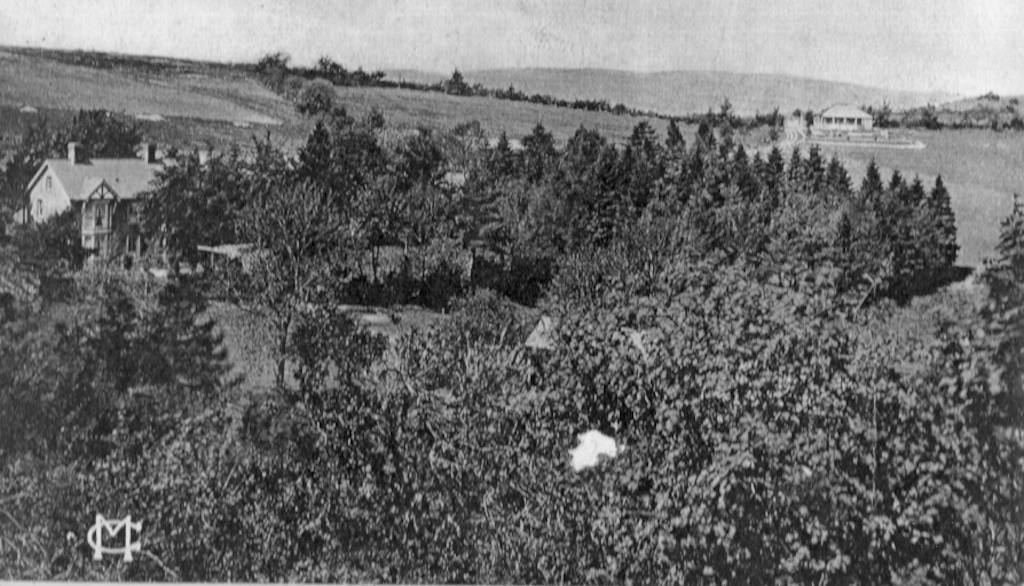 Image from circa 1910
In March 1908 Miss Sheen sold Pantpurlas to Mr David Walters, a farmer of Cefngorwydd, Gowerton, near Swansea, at whose death in 1935 it passed first to his widow and at her death in 1944 to her sons, Thomas Glyn and Philip John Walters. Thomas Glyn Walters is of interest because of his considerable fame as a professional tenor under the name of Walter Glynne. He had a long and varied career as recitalist, broadcaster and soloist at the leading British festivals and concerts.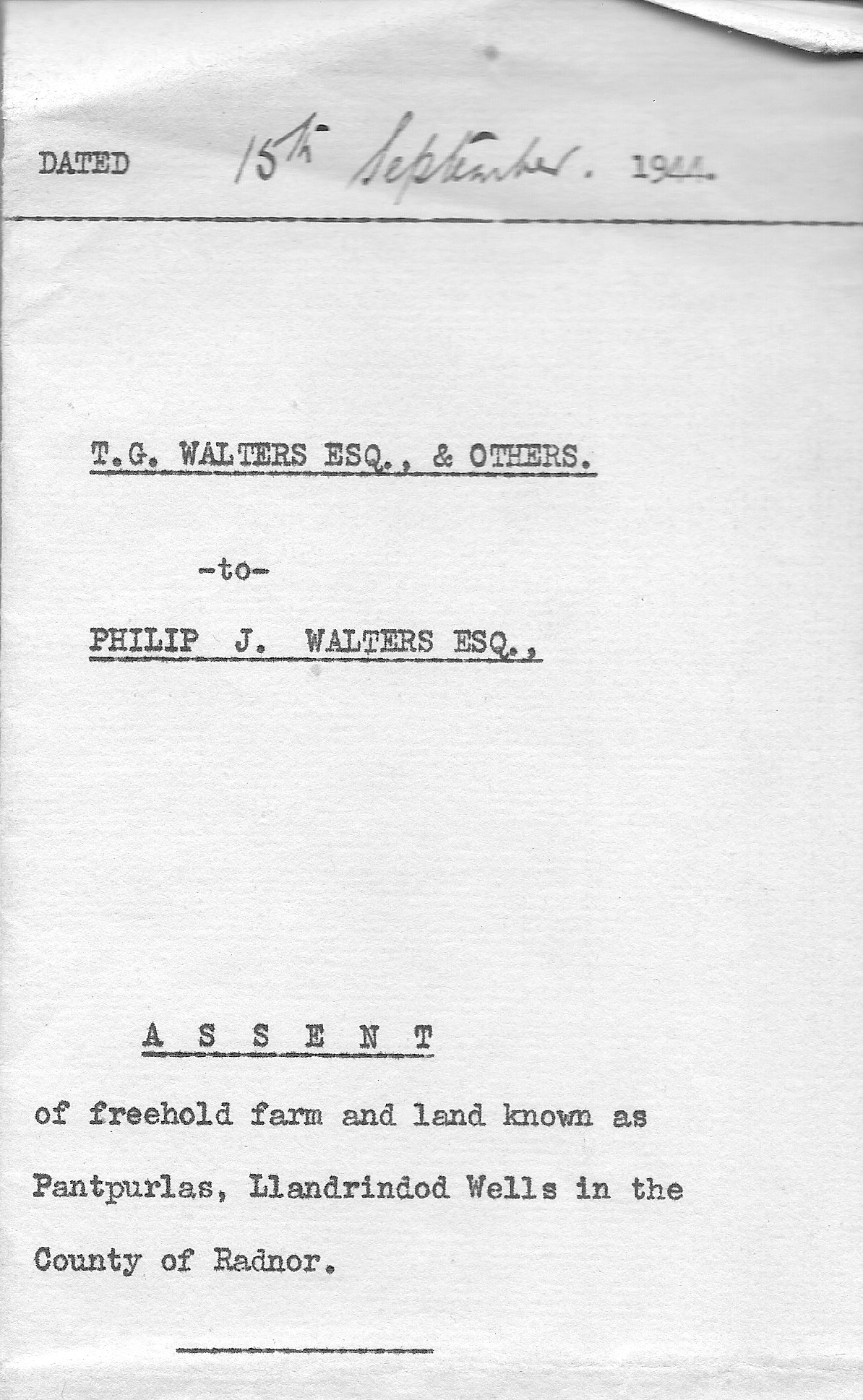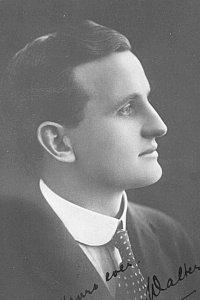 Walter Gylnne
The tenant of Pantpurlas when it became the property of Mr David Walters was Mr Daniel W. Jones, son of a Gwenddwr, Brecon, farmer. With his wife, Ann, he farmed its twenty-five acres and she built up the reputation of the farmhouse as an ideal centre for visitors in search of comfort, good food and rural quiet. It was during their 16 years tenancy, 1907-1923, that Mr and Mrs Jones built in c.1911 the Tea Rooms in a setting of lawn, shrubs and trees. Their site was away from the farmhouse but adjoining the lane leading down to Cefnllys road and the town, and soon the Pantpurlas Tea Gardens began to rival The Cairn and Bailey Einon farmhouse as the object of a pleasant and not too strenuous walk from the Spa, ending in a first-rate farm tea in restful surroundings. More images can be found here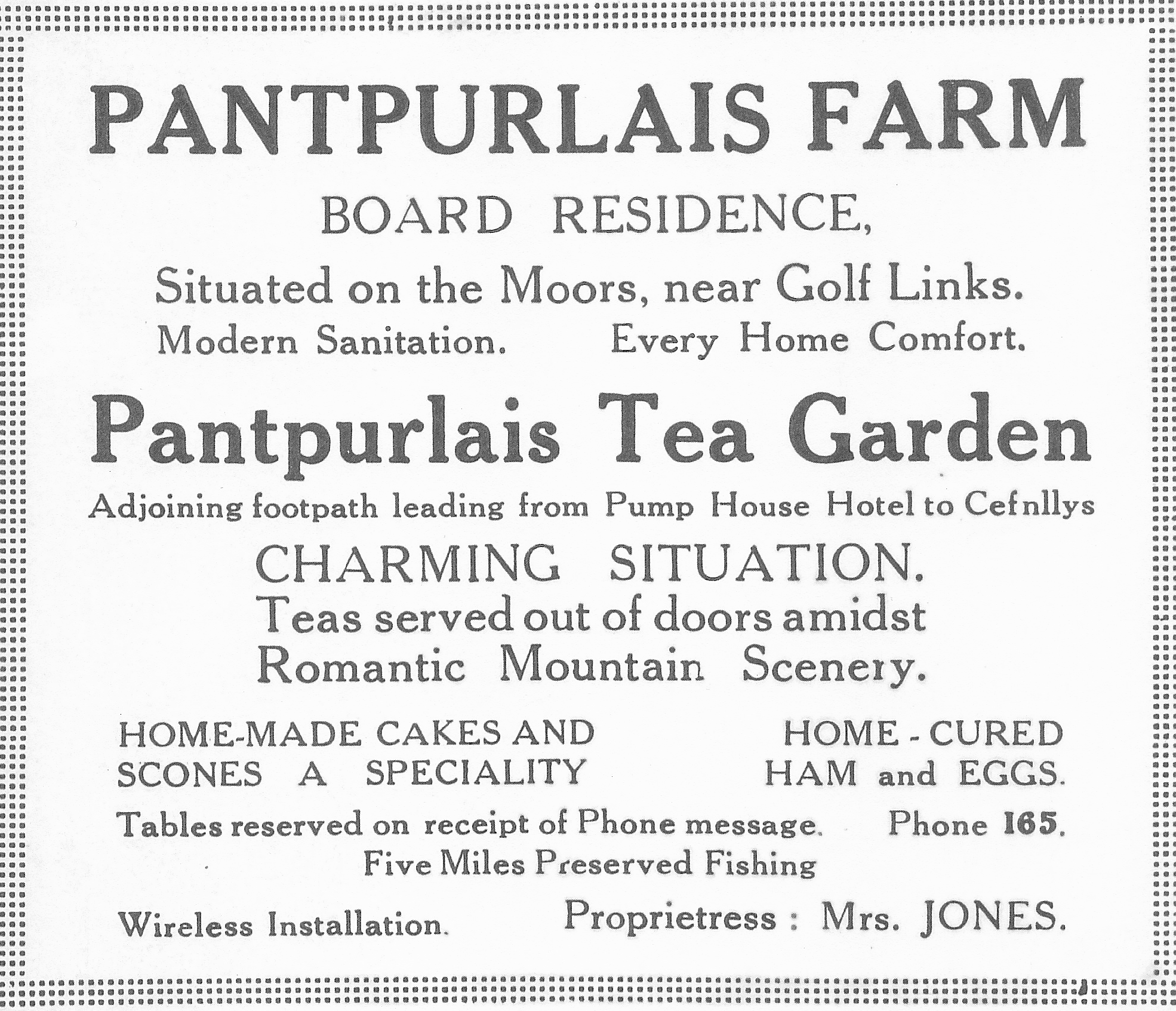 Advert of the hotel and tea rooms
Mr and Mrs D. W. Jones and their children were staunch Congregationalists, and their son, Powell Jones, 1894-1977, a keen vocalist and devotee of choral and orchestral music, himself told the author the story of Glyn Walters, long before he had made his name as Walter Glynne, confiding to him that one day he, Glyn, intended to be a famous singer!
The members of the Walters family spent many holidays at the Wells, and it comes as no surprise to learn that among the many renowned vocalists who gave recitals at Christ Church Congregational was none other than Mr Walter Glynne.
After his father's death in 1923 Mr Powell Jones spent many years in Aldershot, but returned to Llandrindod Wells after World War II and in 1948 he bought the Pantpurlas property, but in 1951 he and his sub purchaser resold it. Since then it has had four owners.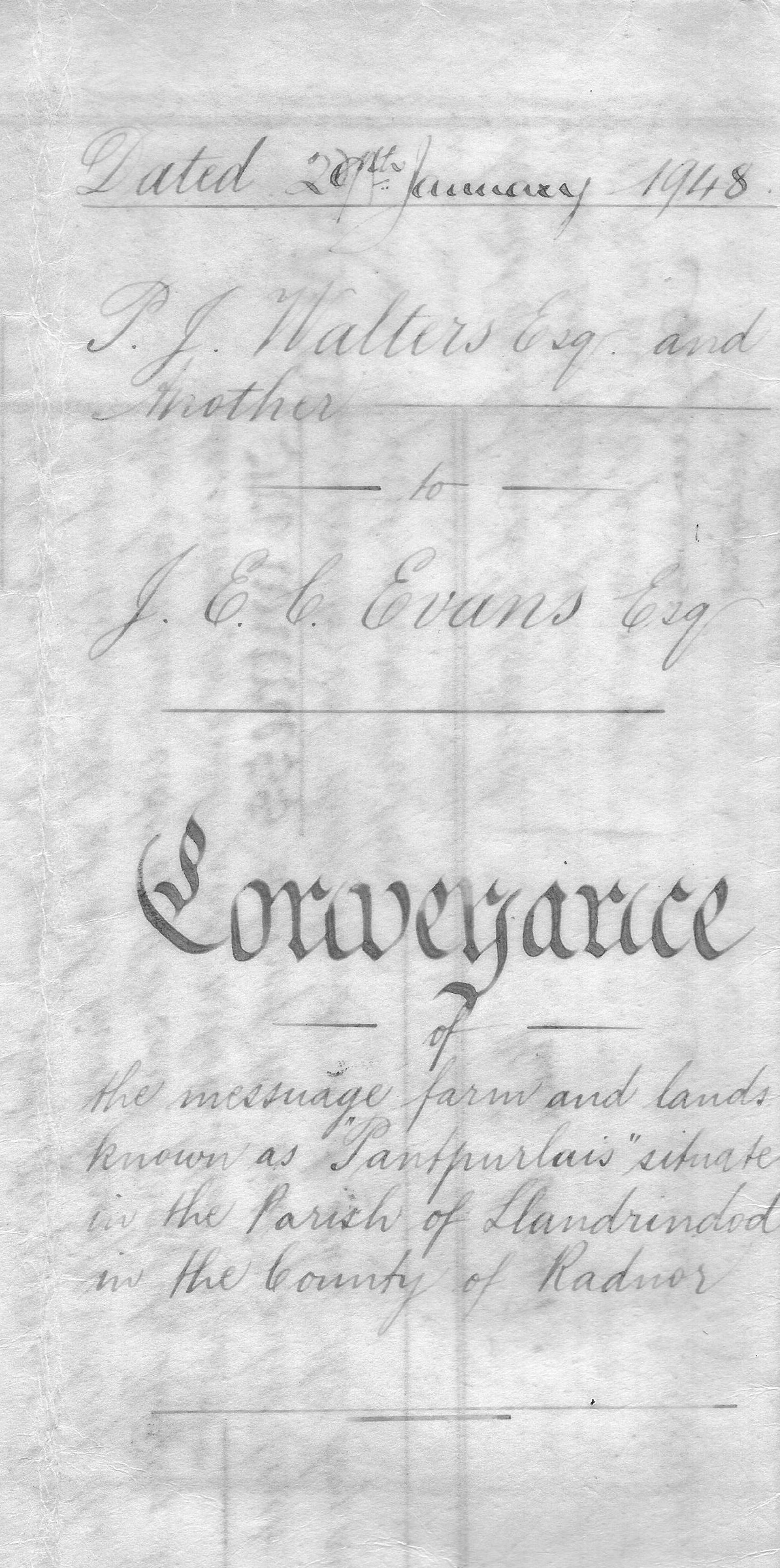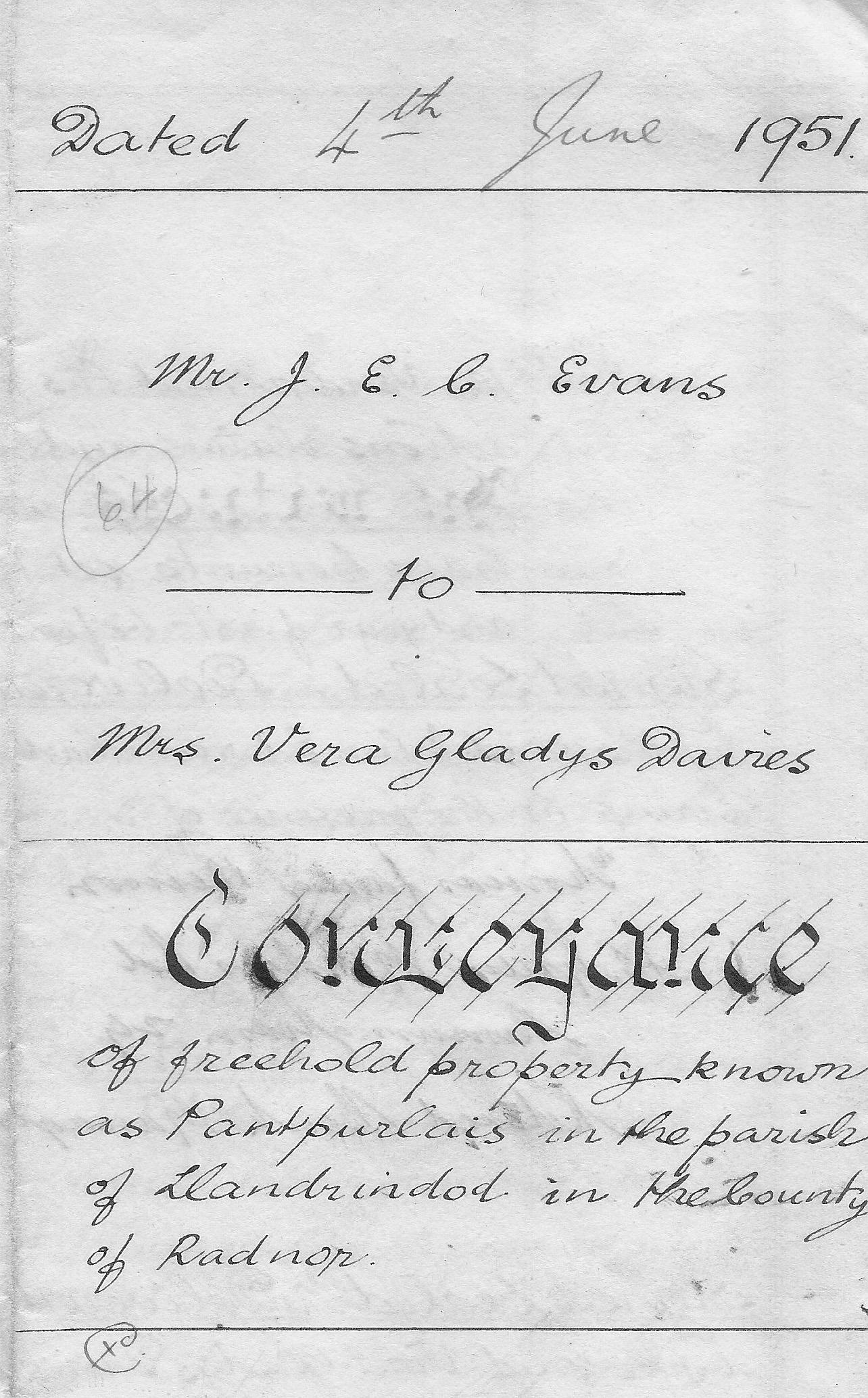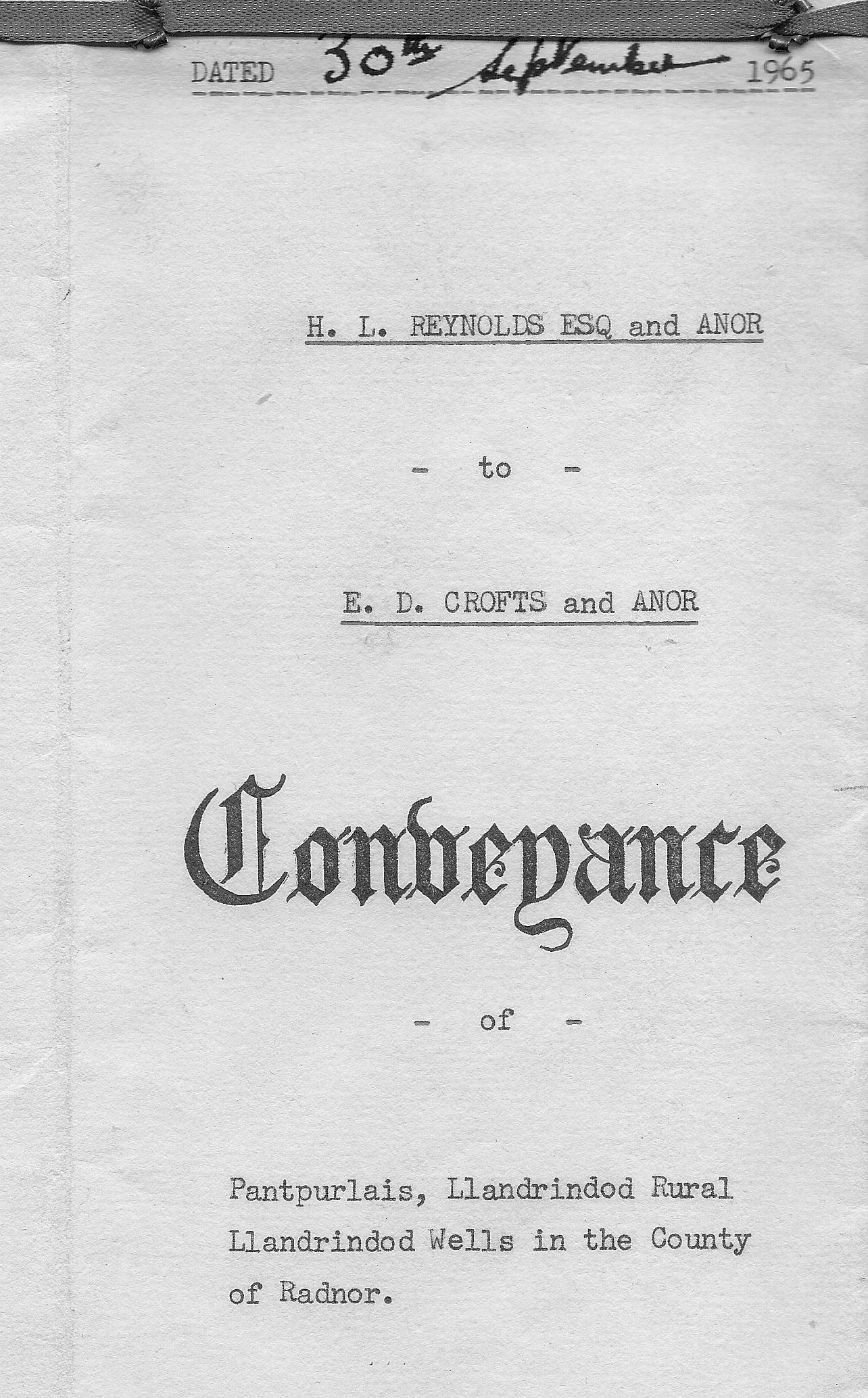 Mr and Mrs Humphries purchased the property in 1976 and the once famous Tea Rooms, with the change in public ideas of a pleasant afternoon walk, are now only being used as winter shelter for sheep, and so Pantpurlais may be said to have reverted to its original use as a small hill farm in the setting of beautiful scenery which so appealed to the Sandford family.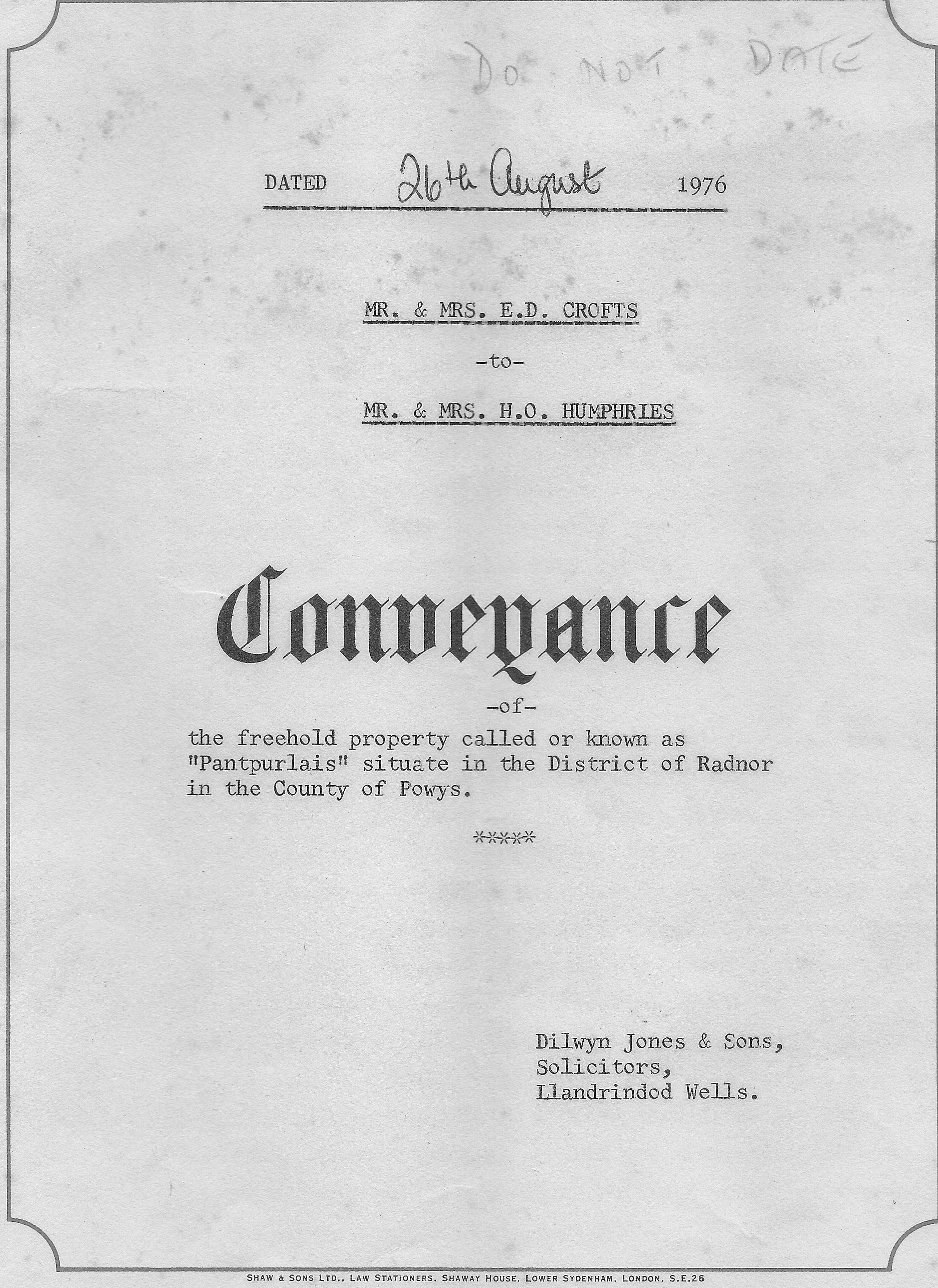 Mr and Mrs Steventon purchased the property in 2016, and undertook some major repairs to the house.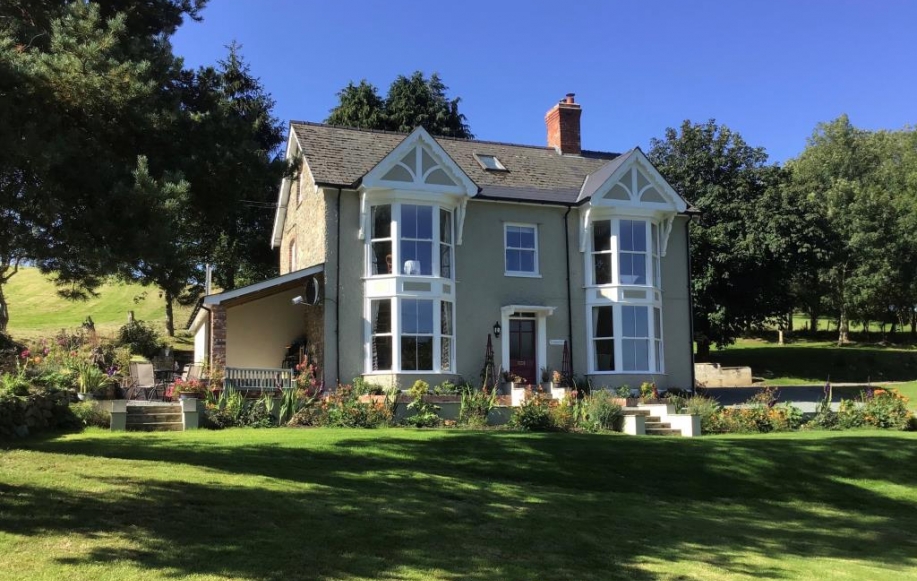 Image from circa 2019